Company History:

Joe's Paving Company was established in 1972, initially focusing on small patch jobs and driveways.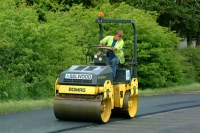 In November 2001, Mr. Sean Repko took over Joe's Paving Company and quickly turned the company's focus to jobs including commercial and residential tracts, industrial parking lots, etc., while still marketing to the individual homeowners so as not to lose that valuable business marketplace.

As business improved, the necessity for staff increased and additional people were hired.

An integral component of the company's success are the approximately 30 dedicated employees, who are considered as much a part of the company as the owners and decision-makers.

Operating for over 30 years is an accomplishment, and the owner's current goal is to expand the business to cover other areas of California.